Grups automation has vast experience in manufacturing VFD and PLC based control panel. For every automation panels it is necessary to used combination PLC and Drive system . Grups has expertise to design and built PLC and VFD based control panel as per clients requirement to meet control philosophy received from clients . Design of the PLC and VFD panels is such that there won't be magnetic interference of electromagnetic field generated by VFD with signal cables of the PLC. Grups provides proper Power as well as isolated instrument earthling for whole system.

Description
Frequency converters for all tasks
Regardless of how demanding your variable speed applications are, Siemens can deliver exactly the right frequency converter. Our commitment to engineering excellence will satisfy all of your requirements — even in customized or medium voltage drive applications
The superior AC converters for a world of applications
When you depend on an AC converter system, Siemens provides the excellence you can rely on. We provide an answer to your AC converter and low voltage requirements with our comprehensive product portfolio — the broadest and most inclusive in the manufacturing and processing industry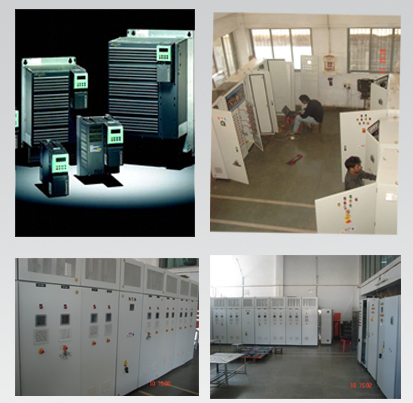 • Application
Siemens SINAMICS is the new family of Siemens drives designed for machine and plant engineering applications. SINAMICS VFD offers solutions for all drive tasks:
• Siemens VFD for Simple pump and fan applications in the process industry.
• Siemens VFD for Complex single drives in centrifuges, presses, extruders,elevators, as well as conveyor and transport systems.
• SIEMENS Drive line-ups in textile, plastic film and paper machines, as well as in rolling mill plants.
• SIEMENS SINAMICS Highly dynamic servo drives for machine tools, as well as packaging and printing machines.

• Versions
• SINAMICS G ( SINAMICS G110 , , G130 ) is designed for standard applications with asynchronous
(induction) motors. These applications have less stringent requirements regarding the dynamics and accuracy
of the motor speed.

• SINAMICS S (SINAMICS S110 , S120 & S130 ) handles complex drive tasks with synchronous/asynchronous (induction) motors and fulfills stringent requirements regarding

• dynamics and accuracy
• integration of extensive technological functions in the drive

• SINAMICS isdivided into the family members:
Low-voltage inverters (line supply <1000 V)
• SINAMICS G110: the versatile drive for low power ranges
• SINAMICS G120: the modular single drive for low to medium power ranges
• SINAMICS G130 and SINAMICS G150 – the universal drive solution for high-performance single drives
• SINAMICS S120 – the flexible, modular drive system fordemanding tasks
• SINAMICS S150 – the advanced drive solution for high performance single drives

• Medium-voltage inverters (line supply >1000 V)
• SINAMICS GM150 – the universal drive solution for single drives in the medium voltage range
• SINAMICS SM150 – the advanced drive solution for single and multi-motor drives in the medium voltage range